The practice of Profysio in both Calpe and Altea offers professional medical fitness facilities for exercise with a medical indication (clinical exercise or medical fitness).
For the prevention of cardiovascular diseases, osteoporosis, systemic diseases, and weight managemen;
As preparation for resuming sports activities after an injury or a period of inactivity;
Continuation of a physiotherapeutic rehabilitation programs;
Following the achievement of treatment goals through physiotherapy, if you wish to continue training;
Clinical Exercise is typically recommended by a physiotherapist, GP or doctor and follows a thorough intake and assessment, after which we create an individualized sports advice.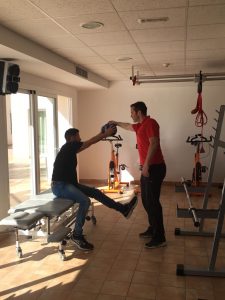 Clinical exercise, also referred to as medical gym or clinical fitness, is an exercise program to address specific medical conditions, injuries, or health concerns. It involves structured exercise tailored to individual needs and supervised by trained healthcare professionals, such as physiotherapists. Clinical exercise can be part of a comprehensive physiotherapy plan or a standalone program. It aims to improve physical health, mobility, and overall well-being by utilizing safe and targeted exercises in a controlled environment.
You might also be eligible for participation in a clinical gym group, where you can engage in sports activities alongside fellow participants under the supervision of a physiotherapist.
Physiotherapy might include clinical exercise as part of a comprehensive treatment plan, as well as hands-on techniques, modalities, education. Physiotherapists assess, diagnose, and manage conditions such as injuries, chronic pain, and mobility issues, utilizing a holistic approach that considers individual health history, goals, and lifestyle.
In most cases, physiotherapy precedes a medical fitness program, unless a chronic condition is already known to the patient and they wish to continue their established medical fitness program directly within our practice.
Learn more about physiotherapy or rehabilitation.
While clinical exercise is specific to addressing medical concerns, the shared gym area allows individuals without specific medical needs to engage in exercise for overall fitness, strength, and enjoyment just as well.
In the shared gym area, individuals can engage in sports and exercises either individually or as part of a group, with guidance from one of our team members, and benefit from the tranquil and secure environment.
Learn more about exercising in a physiotherapy practice.
Would you like to make an appointment or receive more information?
You do not need a referral for medical fitness; you can simply get in touch with us and schedule an appointment. Depending on any injuries or conditions, you are welcome to bring a referral or diagnosis from a doctor so that we can take it into consideration when providing personalized exercise advice.