Clinical Fitness and Sports
The Profysio practices in both Calpe and Altea offer professional fitness facilities for individuals both with and without medical indications.
Are you looking to engage in physical activity but unsure where to start?
Are you seeking a trusted environment where you can exercise peacefully?
Do you prefer exercising with people in your age group?
Are you interested in utilizing state-of-the-art professional equipment for your workouts? Do you place importance on personal interaction and an informal atmosphere?
Physio sports; this option is suitable if you are free from physical complaints and prefer a calm and reliable environment for pursuing fitness goals or maintaining your fitness levels. You have the choice to exercise individually, in groups, or with a personal trainer.
Because our fitness center is integrated within a physiotherapy practice, you can rest assured of a tranquil and secure environment, complete with professional equipment and guidance. We welcome everyone interested in responsibly enhancing their health and fitness. Discover more about pricing, schedules, and the various guidance options based on your preferred approach to exercise.
Would you like to make an appointment or receive more information?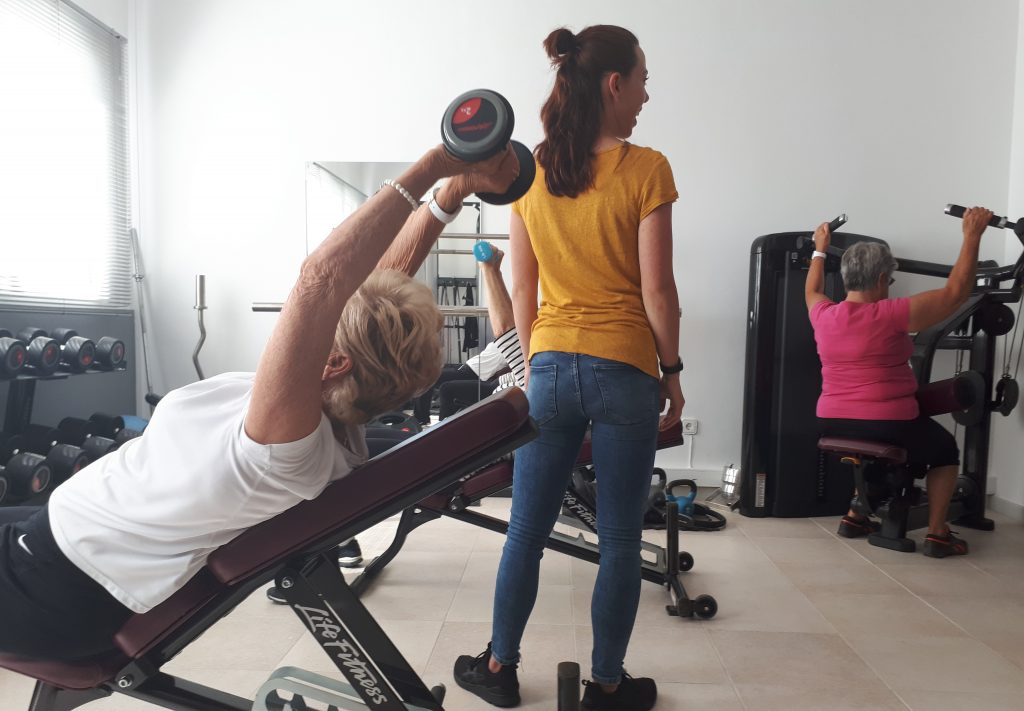 Exercise to address medical conditions
If you have medical complaints but still want to exercise, it might be wise to consider a different form of physical activity before beginning solo exercise or a group class. For guidance, you can always get in touch with us to discuss your personal situation.
Physiotherapy encompasses a wider scope of treatments, e.g. in cases of restricted mobility, pain complaints, and chronic conditions such as arterial vascular disease. Exercising in a fitness facility can be a part of the physiotherapy treatment, often combined with education and body awareness
Read more about Physiotherapy.
Rehabilitation for conditions such as a new knee or hip replacement, after a heart attack, or stroke falls under the realm of physiotherapy and is often a combination of manual physiotherapy techniques and exercises in the fitness facility
Read more about Rehabilitation
Structured exercise programs designed to address medical conditions, injuries, or health concerns such as chronic back pain, obesity, burnout, chronic pain or fear of movement.
You might engage in physical activity within a medical sports group under the guidance of a physiotherapist.
Read more about  Medical Fitness or Clinical Exercise.
A special program aiming to optimize the patient's condition before a planned operation. We prepare you for surgery, focusing on muscle strength, flexibility and education about topics like walking with crutches, and the recovery process.
A personalized exercise program under the guidance of a physiotherapist.
Learn more about Fit 4 Surgery.
You don't need a referral for sports. You can easily get in touch with us and schedule an intake appointment. Depending on any injuries or conditions, you are welcome to bring a referral or diagnosis from a doctor so that we can take it into account in your personalized sports advice.