If you want to engage in preventative exercise to become or stay fit, you've come to the right place. Being a part of a physiotherapy practice, our fitness space ensures a calm and familiar environment where you can independently work on your health.
Every individual who comes to exercise receives a comprehensive explanation about the equipment and potential exercises during their first session. If desired, we create a workout program that you can follow while training.
This way, we ensure that you perform all exercises correctly and can confidently begin exercising. If you have any questions during your workout, a member of our team is always available to monitor proper execution or explain exercises.
For more information about prices or to schedule your first fitness session, simply get in touch with us through the contact form below or our telephone number.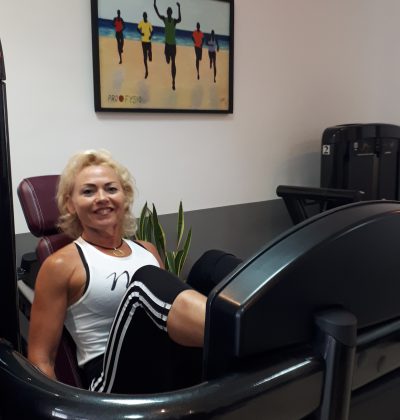 Therapists in the gym:
Always follow the instructions of Profysio staff members. The fitness area is also used for physiotherapy and rehabilitation, which means that a physiotherapist might ask you to briefly switch from a fitness machine during your training.
Respect and Quietness:
It's also possible that fellow exercisers may require more space or time for specific exercises. Therefore, always be patient and respectful. Clean all equipment after use and wear appropriate attire (covering the upper body and closed, clean shoes).
By Appointment Only:
You can schedule all your workouts in advance or make appointments on a weekly or daily basis. This way, we can ensure there's enough space and tranquility in the fitness area for everyone.
Please notice! In the case of physical discomfort or a chronic illness, we kindly request everyone to first schedule a one-time appointment with a physiotherapist. The physiotherapist can then assess whether it's wise and feasible to exercise and provide guidance on exercise precautions. This way, we aim to prevent possible injuries or pain and build muscle strength, flexibility, and endurance in the right manner.
Would you like to make an appointment or receive more information?
For more information about prices, schedules, and/or a consultation appointment with the physiotherapist before obtaining a sports membership, simply get in touch with us through the contact form or our telephone number.