Ortho Manual Therapy - OMT
The origin of Orthopaedic Manual Therapy (OMT) lies in the integration of knowledge from chiropractic, osteopathy, physiotherapy, and manual therapy. Manual therapy is often combined with other physiotherapeutic treatment methods.
The goal of Ortho Manual Therapy is to improve joint function through mobilizations and manipulations, which are specific techniques performed exclusively by OMT therapists. An Ortho Manual Therapy treatment also includes additional history-taking, further physical examination, diagnosis, and education on improving posture and movements in daily life to prevent future joint problems.
OMT often creates space for recovery or movement and complements other treatments. By utilizing OMT, the average duration of treatment and the duration of pain complaints can be significantly reduced. This means that any of our therapists may recommend starting with OMT before undergoing further physiotherapy treatments. Our multidisciplinary approach and team collaboration make this possible and will be coordinated by your treating therapist.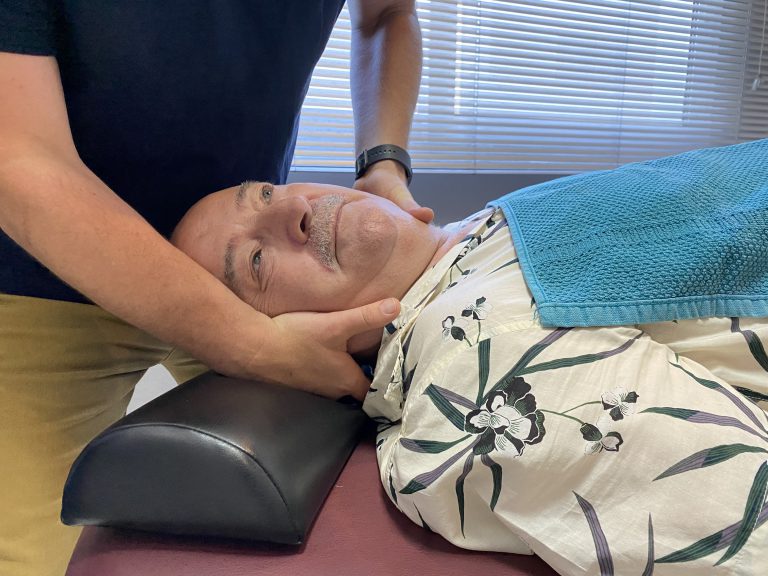 When to see an Ortho Manual Therapist?
Common symptoms, where the effect of OMT has been proven effective:
Headaches, Neck, Shoulder complaints
Lower Back Pain
Joint and spinal movement restrictions
Radiating pain in arms and legs
Disc Problems, such as Herniated discs ("slipped discs")
Irritated nerves, such as Sciatica
Facial, jawbone and ear pain, possibly combined with neck pain
Vertigo
Osteoarthritis
OMT is a specialization that requires 2 years of university study after completing a physiotherapy degree. Our OMT therapist is registered in this field of expertise by the Royal Dutch Association for Physiotherapy, and their accreditation ensures the integration of new knowledge and techniques through continuous further education.
Would you like to make an appointment or receive more information?
You do not necessarily need a referral for Ortho Manual Physiotherapy, you can simply contact us and make an appointment. An initial appointment will always includes an extended intake, followed by an examination, diagnose and treatment.