Have you had an accident, medical procedure, or are you experiencing difficulties in functioning due to illness, stress, or, for example, a previous COVID infection? Physical limitations can have unpleasant consequences for your daily activities and overall well-being. You may fear setbacks, be unsure about what is allowed, or even doubt the possibilities of recovery. The physiotherapist will actively engage with you in a rehabilitation program, focusing on recovery and improving your fitness and muscle strength. The physiotherapist will guide you in understanding your physical limits and building self-confidence.
Rehabilitation aims to improve the quality of life with the goal of resuming your daily activities and being able to enjoy life without limitations. Do you have a goal of returning to top-level golfing? Or being able to travel with your partner? We will assist you in achieving your personal goal.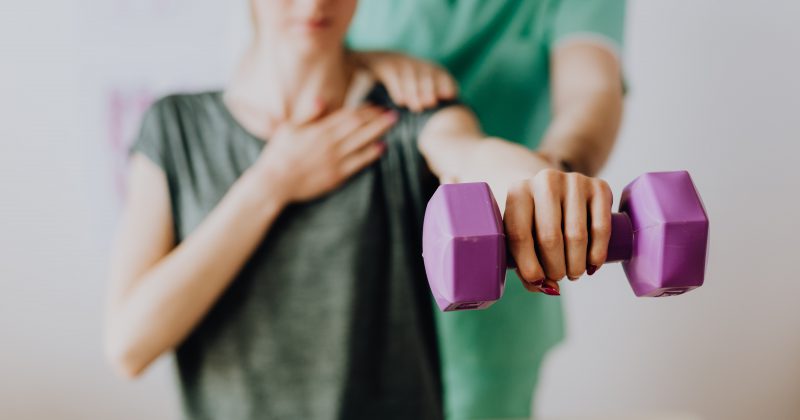 In addition to the physical aspect, there are social, energetic, and psychological factors that can play a role in your rehabilitation. If this is the case for you, the physiotherapist, in consultation with a psychologist, kinesiologist, and your general practitioner, can develop a plan of action to optimize the rehabilitation process.
We specialize in various forms of rehabilitation and have received additional training and updates to provide the best therapy. We also collaborate with other professionals to incorporate nutrition and mental support into your rehabilitation journey if needed.
Preparation for surgery, focusing on muscle strength, flexibility, education on topics such as walking with crutches, and the recovery process.
Rehabilitation following procedures such as a knee replacement, hip replacement, shoulder surgery, or ankle fracture.
Rehabilitation following a heart attack, pacemaker implantation, or heart surgery
Rehabilitation for Long COVID, following Dutch protocols and guidelines
Rehabilitation following conditions such as stroke, cerebrovascular accident, Parkinson's disease, or neurological injury after trauma.
Would you like to make an appointment or receive more information?
You do not necessarily need a referral for rehabilitation as part of physiotherapy. You can simply contact us and make an appointment. However, in most cases, you would have already had previous contact with a general practitioner or specialist who, following a medical trajectory, advises rehabilitation training.
The therapist will always conduct an intake with you to discuss your complaints, review your medical history, and based on this, develop a rehabilitation plan.
You can register for rehabilitation in advance before coming to Spain or prior to a planned surgery. If necessary, we will consult with your treating physician in other countries.